The removals and storage solution in perth
mobistorage secure mobile storage units are the perfect solution for anyone moving house in Perth. We offer a convenient and hassle-free house or office move to our clients. If you're trying to find a furniture removalists company on a budget, then you're at the right place!
If you are hiring a truck or a removalist to move house, you will normally have to get the move done in one day – making it a very rushed and stressful experience. At mobistorage removalists, we can offer you an economical, stress free, and convenient moving solution. After servicing Perth for many years, we now have a reputation for being the best removalists and providing affordable removals, office relocation, packing materials for any size move.
We will deliver the mobistorage unit to your home, at a time that is convenient for you. We can deliver the mobistorage unit on the day of the move, the weekend before the move, a week before the move or whenever it suits you best. That way you can take your time packing the mobistorage unit at a time that works for you. Once the mobistorage unit is packed, we will come and collect it and drop it off to your new house. Alternatively, we can store it at our secure facility until you're finally ready to move.
Pack the mobistorage unit yourself and have peace of mind knowing your belongings are safe in our secure facility. Then leave the transportation to us.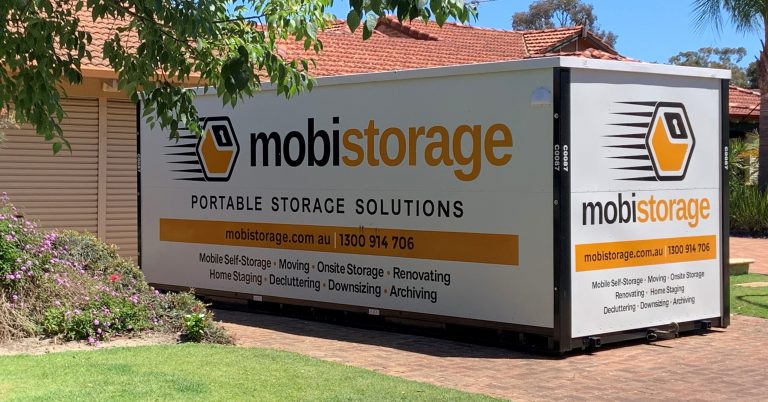 THE BUSINESS SELF STORAGE SOLUTION
mobistorage removalists Perth is a great way to utilise inventory control for your retail business. Our mobistorage secure units can be used for any oversupply of certain inventory or for storing additional inventory during peak periods. Our mobistorage secure self storage units come in three convenient sizes which will suit any sized retail business.
Seasonal decorations and promotional items used for small amounts of time during the year often take up plenty of valuable space at your place of business. mobistorage Perth also offers an office removals or office move services.
Why not opt for an office removal services and store these unwanted seasonal items away when you don't need them? You'll have so much more space for the important things that matter to your business – like extra inventory or stock! Our removalists in Perth truly live up to our motto!
As a specialist office relocation, Removalists Perth can help declutter your shop space, so that your customers have more room to walk around in. This will help improve their overall shopping experience – resulting in stronger brand connection and more sales for your business. We provide a storage option that fits your unique needs. Get in touch with our team today!
DISCOVER PERTH'S BEST CHEAP SELF STORAGE UNITS
Innovative Perth self storage & cheap mobile self storage
Removalists Perth is an exciting new age self storage and removals solution for Perth. Mobistorage mobile storage containers are more secure, convenient, cheaper and flexible than using traditional self storage or furniture removalists because our storage units come to you.
Most convenient removalists Perth
Removalists in Perth makes self storage so easy! We deliver a mobile self storage container to you, you pack it and then we collect it and store it on our secure site in Welshpool. When you are ready at your new location, we deliver it for you to your next address. It's that simple! Talk with our customer service team today!
Save time and money with DIY removals
Removalists have never been easier than with Perth Removalists as we deliver our mobile self storage unit to you and then you can fill it onsite. No time pressure to do it all in one day or a few hours – you can take your time. Our removalists can then come back to collect it and store it securely on our site in Perth. When you are ready we deliver your items to the new location. It's that simple!
Choose from three sizes of self storage containers
mobistorage are the leading innovators that offers self storage solutions in Perth. Mobistorage offer three sizes of storage containers to cater for different needs. Our mobile containers are purpose built with bamboo floors to store your valuables in a safe and secure environment. Get a quote to discover how our movers can deliver a cheaper solution for your storage problems or removal needs.
MOBISTORAGE PERTH CAN SUPPLY PACKING MATERIALS
At mobistorage Perth, we have all the packing supplies you'll need to make your move a stress free experience. We highly recommend for your to call our removalists in Perth prior to the move. Our highly experienced, professional team will be happy to assist you!